Do you need to support more than 200 concurrent users?
BigBlueButton is a great online conferencing platform, and a single BBB server can handle a few hundred users across a number of meetings.
A single server works great for small tutoring, or e-learning projects. Its a great way to get started in e-learning. We can help you deploy a branded single server to get you started. Hosted by us, or in your own data center.
For commercial companies that require scaling, and higher availability we have a number of scaling options to fit your financial and project requirements. We have 3 options, and can deploy both static, and dynamic scaling solutions that can scale to 1000's of ports of conferencing.
Our licensed Basic Load Balancer for up to 5 BigBlueButton servers is priced at $250USD a month, with a $500 setup fee. Additional servers can be added for $50USD. The software is hosted by DistanceLearnng.cloud with full priority monitoring and technical support.
Optional automated MP4 recordings and Meeting Statistics are also available.
COVID RELIEF: If you are a small non profit educational institution, we will host and configure SAME DAY and waive all setup fees for up to 3 servers for the next 60 days. Just turn up some servers and give up a call to get them load balanced to a single LMS
For technologists designing an application around components of BigBlueButton, we offer and affordable licensed commercial load balancer that can be installed in your service. The licensing is tied to number of servers in the cluster, and can be deployed initially with a little as 2 servers. As your project grows you can be assured you can support your customers by simply adding additional licenses and servers.
We also have custom dynamic scaling capabilities for larger projects, that enables for dynamic starting/stopping to handle large peak user demands.
We also can provide .mp4 recordings, telephone dialing services, and white label multi tenant infrastructures to support all your potential customers.
Lets discuss your project today! We would be glad to sign an NDA if needed.
We can deploy our scaling solutions in US, Canada, Europe, Asia and China.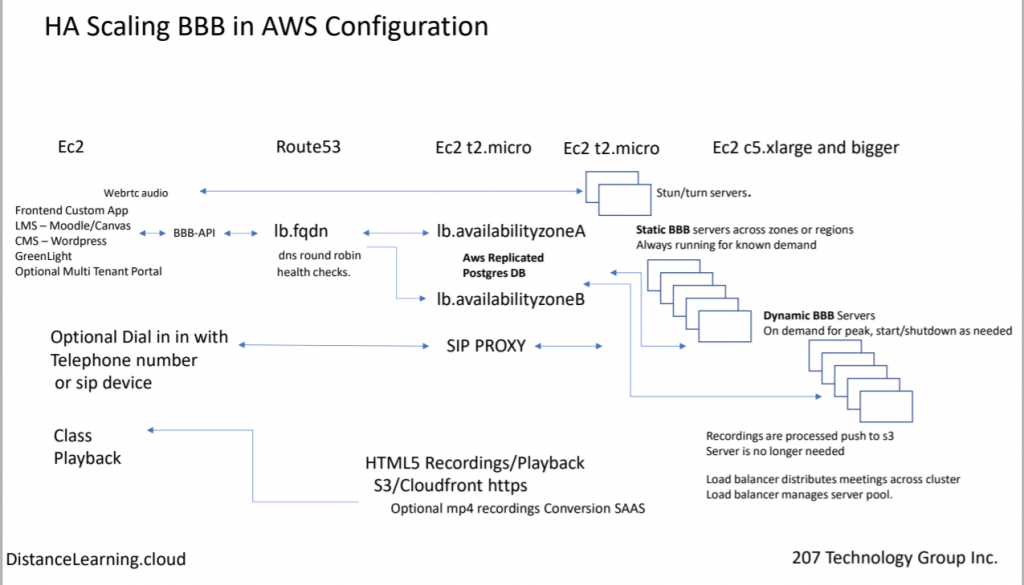 We can deploy scaling for AWS, Digital Ocean, IONOS, Scaleway and any modern cloud or Bare Metal infrastructure.